Sturmanskie
NH35/9035978
48 mm -
Mechanical Automatic
Sturmanskie
NH35/9035979
48 mm -
Mechanical Automatic
Sturmanskie
NH35/9035977
48 mm -
Mechanical Automatic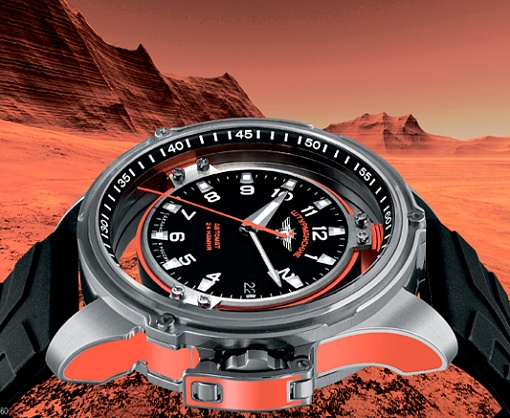 Looking into the future, we have created the Mars watch. Due to its unique properties, this watch will be irreplaceable both in space and on Earth. Having analyzed all the functional requirements, we concentrated on satisfying all of them in one piece: this watch is vibration-proof, waterproof, and automatic. The three supports holding the movement enclosed in the inner casing are part of a pattern inspired by the recognisable brilliant design of the Androgynous Peripheral Attach System (APAS), the docking system first used for the Soyuz-Apollo joint space mission.
The set-up is transparent and the movement can be seen through the front glass and the back glass. It looks like the movement, surrounded by a translucent ring with a minute scale, is suspended in zero gravity. Bright scarlet red, the colour of the Red Planet, the colour of fire, the colour of energy and victory.
The supports that hold the movement inside the outer case are painted orange, and the same colour also highlights the side facets of the outer steel case. To make the colour more vivid, as well as durable and glossy, we used the enamel technique. Based on functionality, we have created a recognisable design, minimalistic, technological and at the same time emotionally appealing.

Read more