Sturmanskie
9015/1871999
36 mm -
Mechanical Automatic
Sturmanskie
9015/1871777
36 mm -
Mechanical Automatic
Sturmanskie
9015/1871000
36 mm -
Mechanical Automatic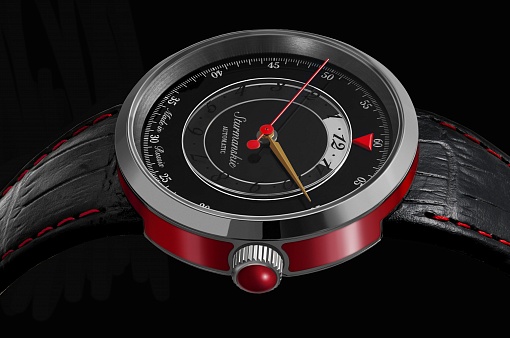 When creating the Mars Lady collection, we decided to use colour as the main design element and make it the basis for expressing the individuality of the watch owner, starting with a passionate bright red hue.
The pure geometric shapes, the black and the red echo the Russian avant-garde, the cradle of all modern design trends.

The bright colours are on the lateral surface of the case, but the front view focuses on the polished bevelled bezel, and the black functional dial with only one feature – the hours are indicated not by a hand, but by a transparent rotating disc and a red triangle on the dial at 12 o'clock.

To create a watch of such a rich glossy colour combined with polished steel, we use repeated manual colour application, baking and polishing, and of course, due to the complexity of the process, many cases have to be discarded. The few precious cases are then complemented by sapphire glass and straps, shaped to continue the outline of the case, and crafted of crocodile or calfskin leather with perforation and stitching, for a sportier look.

Read more